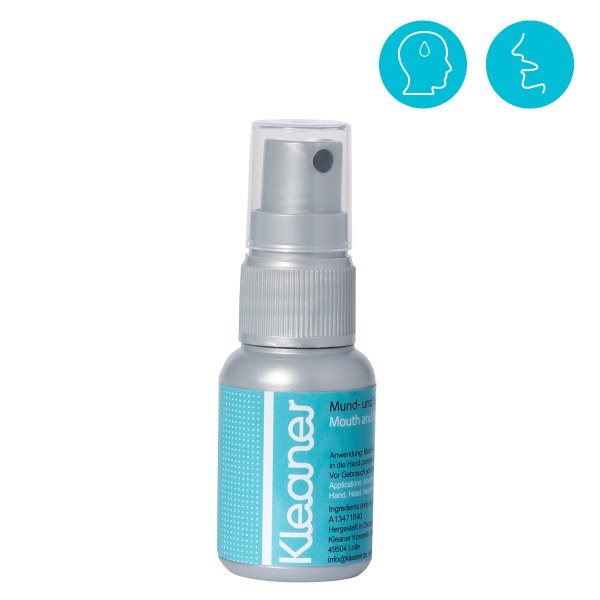 Kleaner Mouthwash Spray – Instant Saliva & Skin Cleansing – Toxin Detox Kit – Oral & Topical Cleaner
Product Description
Kleaner is a mouth and topical skin cleaner that hides toxins that remain in your mouth and skin even several days after consuming narcotics such as cannabis. It removes these toxins and avoids positive drug tests.
Oral Hygiene: Spray 1-2 times into your mouth, move the liquid in your mouth thoroughly, don't swallow.
Body Hygiene: Use topically by on your skin including head, neck, arms and massage thoroughlyTakes effect immediately and lasts minimum one hour. Effective and all-natural ingredients
The Classic 30 ml with spray head.
No more worries about random mouth and skin swab tests! Here's a solution that eliminates any traces of toxins from the mouth and body quickly and easily. Oral Hygiene: Simply take 1-2 squeezes into mouth, move the liquid in your mouth. Thoroughly, don't swallow. Takes effect immediately for minimum 1 hour. Body Hygiene: Use Kleaner on your head, neck, arms, etc and massage it thoroughly. Takes effect immediately for min 1 hour.
The combination of ingredients in KLEANER allows it to neutralize and eliminate traces of toxins (such as cannabis or other similar substances) on the human body and in the mouth. The product is active from application for up to an hour. Do not drink or eat after having the mouthwash as this might dilute the solution.
This test cleans your skin and mouth cavity and removes all traces of nasty substances for at least one hour.Many tests have proven that Kleaner is a reliable companion.
Kleaner functions without chemicals and preservatives. Simply spray approximately 2 sprays- (4ml) inside the mouth and across the tongue making sure its reached all areas in the mouth. Or apply it to the skin, hands, head or neck. Rub in thoroughly. Works immediately!
WARNING: Kleaner should not be used before a drugs test (sweat or saliva) since this will falsify the test result.