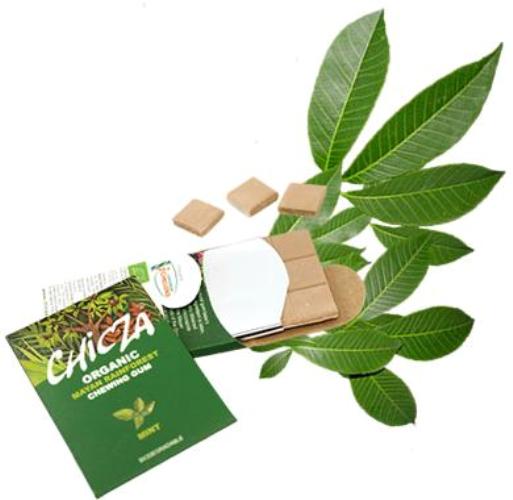 Natural Mayan Chewing Gums "Chicza" – Box Of 10 x 12 Mint Gums
The First ever Organic, Aspartame Free, Sustainable & Fully Biodegradable Chewing Gum! Chicza Comes From the Earth, and Returns to the Earth.

Dietary Dairy free, Gluten free, Organic, Vegan, Vegetarian, Wheat free. Allergens Celery free, Egg free, Lupin free, Milk free, Mustard free, Sesame seed free, Soybean free, Sulphur dioxide free. Ingredients: powdered organic evaporated cane juice, organic gum base, organic glucose, organic agave syrup, organic flavours.

You will receive 10 packets of gums. Servings per packet 12.
Product Description
What does rainforest, organic, biodegradable chewing gum mean? No more mess on pavements, tube, bus seats, shoes and carpets becuase one of the advantages of Chicza's composition is its biodegradability. Once disposed of, its all-natural components will become dust within weeks. (It can actually improve the texture of compost). Chicza's natural taste aims to capture the essence of fresh and wild fruits, herbs and spices, and that original gummy and chewy consistence that only natural gum can give. We Stock All Three Great flavours that are presently available (with more on the horizon) wild mint, mexican lime and spearmint. Chicza is a great organic product with three flavors and a ton of benefits to the environment. Since this gum is harvested from living trees in the Mexican rainforest, the forest will be protected and carefully managed. Chicza was launched last year in London and Mexico, but now you can find it in many countries worldwide. Chicza Organic Rainforest Gum is exactly what it sounds like: gum that comes from the chicle tree found in the Mayan rainforest. The chicle tree is just one of many tropical trees in the world that produces its own type of elastic rubber, which is made by boiling the sap from the tree into a thick paste. Once cooled the rubber is an organic and eco-friendly alternative to the synthetic and non-biodegradable rubber known as polyisobutylene which is used to make the inner tubes of tires used in most gum today!