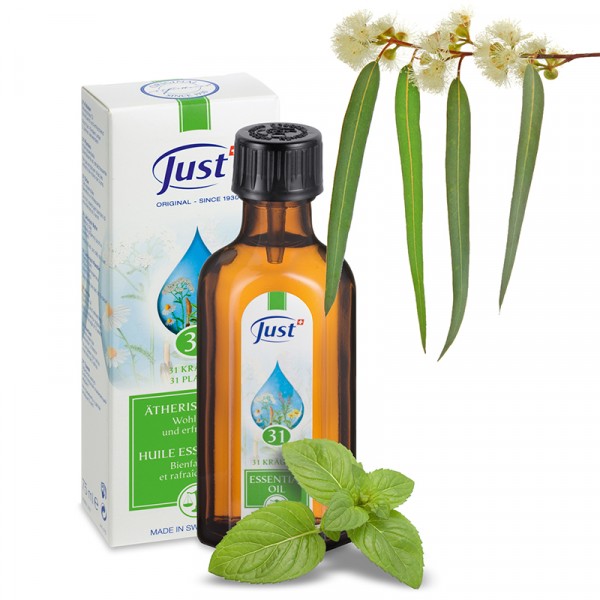 Original Swiss JUST 31 Herbal Oil (75ml)
Product Description
Oil is a blend of 31 plants selected for their specific properties and aroma, which together create an effective, unique oil with many virtues.
Application: 31 Herbal oil is highly concentrated. The 31-herb oil can be used specifically for rubbing, massaging and inhaling through an air-freshener. Used as a bath additive, pure essential oils always need an emulsifier such as some milk, cream or honey to allow the oil in the bath water to be disolved evely.
Helps with: Tension that causes headaches and migraines, Muscle and joint pain, Dizziness or drowsiness caused by low blood pressure, Discomfort associated with food intake, Minor Warts, Arthritis, gout, joint pain, rheumatism, Spasms, cramps, Brisk movements and overexertion, Muscle tension, Warm-up before sports and physical activity, Sprains, Muscle strains and tears, Nausea,..
Good to know: Oil can also be added to toothpaste. It helps to remove lime scale. If you have cut flowers, add a few drops into the vase with water, and they will remain fresh for a longer time.
Ingredients: Eucalyptus Globulus Leaf Oil, Citrus Aurantium Dulcis (Orange) Peel Oil, Arvensis Leaf Oil, Illicium verum (Anise) Fruit / Seed Oil, Citrus Medica Limonum (Lemon) Peel Oil, Panax Ginseng Root Extract, Cymbopogon Nardus (Citronella) Oil, Pinus Pumilio Branch / Leaf Oil, Rosmarinus officinalis (Rosemary) Leaf Oil, Foeniculum Vulgare (Fennel) Oil, Myristica fragrans (Nutmeg) Kernel Oil, Melaleuca Leucadendron Cajaput Oil, Melissa Officinalis Leaf Oil, Styrax Benzoin Resin Extract, Lavandula angustifolia (lavender) Oil, Artemisia Dracunculus (Tarragona) Root Extract, Commiphora Myrrha Oil, Eugenia Caryophyllus (Clove) Flower Oil, Peucedanum Graveolens (Delhi) Extract, Apium graveolens (Celery) Root / Seed Extract, Juniperus communis Fruit Oil, Salvia officinalis (Sage) Oil Thymus Vulgaris (Thyme) Flower / Leaf Oil, Vanilla planifolia Fruit Extract, Cinnamomum zeylanicum Bark Oil, Aniba Rosaeodora (Rosewood) Wood Oil, Carum Carvi (Caraway) Fruit Oil, Procumbens Gaultheria (Wintergreen) Leaf Oil, Chamomilla Recutita (Matricaria) Flower Oil, Iris pallida Root Extract, Ocimum Basilicum (Basil Oil), Limonene, Citral, Eugenol, cinnamate, geraniol, Farnesol, Linalool, Benzyl Benzoate, Citronellol, Coumarin.
Content: 75 ml – 2.53 Fl. Oz.
You may also like…