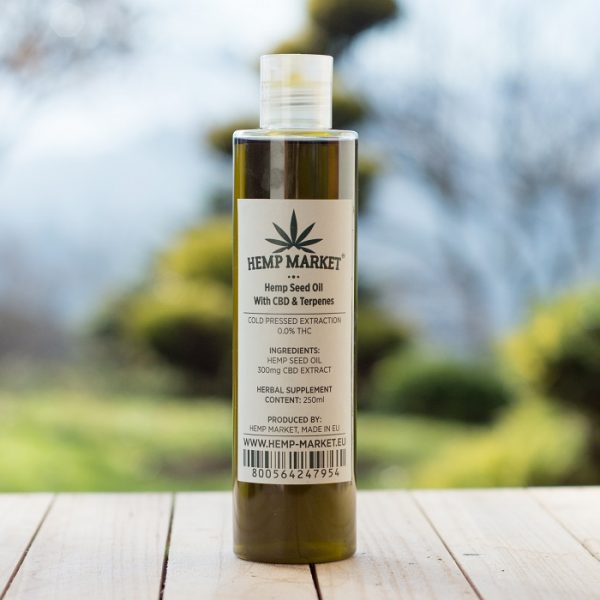 Hemp Seed Oil With CBD & Terpenes
Product Description
It contains eight essential amino acids, CBD & terpenes, rich in vitamins B complex and vitamin E, the only oil that contains gamma-linolenic acid. Gamma-linolenic acid increases prostaglandin synthesis, and thus promotes the treatment of inflammatory processes. A beneficial effect in the treatment of neurodermatitis, lowers blood pressure, relieves premenstrual anchor, prevents and treats osteoporosis, relieves chronic skin disorders (atopic eczema, psoriasis, dermatitis), alleviate problems of arthritis and rheumatic symptoms (reduced swelling of joints, swelling and morning stiffness), a beneficial effect on a number of allergies and help maintain ideal weight. Turbidity and sediment are a natural phenomenon of cold-pressed oil, which does not affect its quality.
Hemp has been known for centuries as an excellent source of essential fatty acids, essential for the human organism. Oil is extracted from the seeds of hemp (Cannabis sativa). It is a dark green color and has a pleasant delicate taste of nuts. It is a rich source of essential fatty acids and has a good balance between omega-3 and omega-6 (1: 3).
Application: Eat 1-2 tea spoons 2 times per day. It can be used as well as an additive in the preparation of cold dishes (salad dressings, pasta dressings, spreads, sauces) and in addition to cooked dishes. It is a great addition to preparing dough for bread, cakes and other desserts (ice cream dressing).
Ingredients: Cannabis Sativa Seed Oil, Extract of Cannabis Sativa with CBD & Terpenes (300 mg CBD)
Content: 250 ml – 8.5 Fl. Oz.
THC content: 0.0%
Category: Herbal supplement
You may also like…