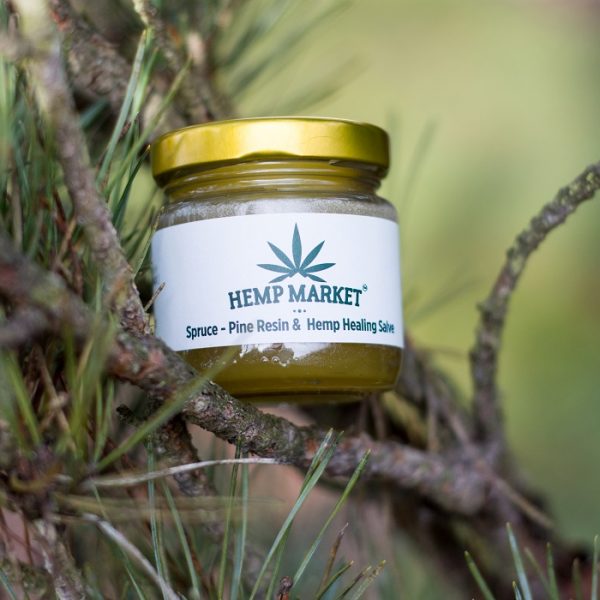 Spruce-Pine Resin & Hemp Oil Balm
Product Description
Healing effects of spruce resin are well known all around the globe for centuries. Remedies from spruce resin are used in traditional folk medicine to treat a wide variety of pathological symptoms, particularly for healing wounds, ulcers, inflammations and other injuries on the skin. Spruce resin was also widely used to treat respiratory problems. Spruce essential oils, which are contained in resin, helps to disinfect and purify lungs and respiratory passages, which is why they were used in cases of asthma, cold, cough and tuberculosis (J.A. Duke and K.K. Wain, 1981).
The American Indians were using spruce resin for centuries by combining it with other herbals to treat wounds and cuts. Very often they also used other parts of the spruce, for example they were making a so called spruce beer and a known syrup from spruce foliage that contained a lot of vitamin C (C. Erichsen-Brown, 1989).
Ointment made from spruce resin was also known in some areas of central Europe. People were mostly making it themselves for purposes of treating wounds, inflammations of joints and other similar pathological symptoms. It was also used for treating livestock, especially for treating the inflammation of cows udder. A known Slovenian herbalist, friar-priest Simon Ašič, also wrote about a wide variety of healing effects of spruce and spruce resin (P. Simon Ašič, 1992). In his book we can read that remedies from spruce resin stimulate stiff muscles, increase our immunity and efficiency and that they are also very effective for treating skin diseases, scabs, skin eruptions, ulcers and wound healing.
Ingredients: Pine & spruce resin, hemp oil extract, bees wax, coconut butter.
Content: 100 ml – 3.4 Oz.